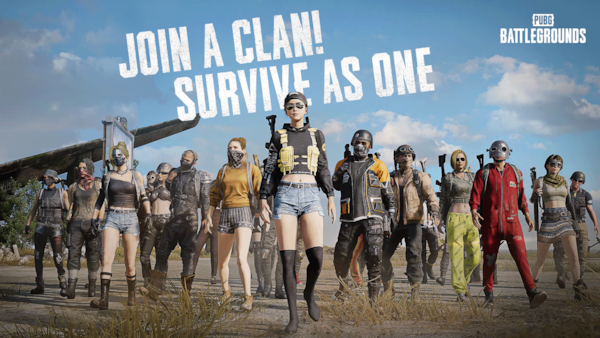 We are introducing Clan System to PUBG: BATTLEGROUNDS that allows players to create clans and collaborate with clan members to earn a range of benefits and rewards.

Players with BATTLEGROUNDS PLUS accounts can create clans by clicking the clan button located in the lobby. Once the clan is created, various features such as clan search, chat, and notifications are provided. Each clan consists of a clan master, manager, and general members, and can have up to 100 members. Players who have completed the tutorials are eligible to join a clan. They can either request to join a clan or be invited by a current clan member.

To make clans even more enjoyable, there is a new progression system with clan levels and rewards. Clans can reach level 20, and Clan XP can be earned through gameplay. Once a clan reaches level 2, its Clan Tag will appear by player's nickname/PUBG ID, along with a corresponding Tag Plate. The Clan Tag Plate can be upgraded as a clan levels up. Players receive a double XP bonus when playing with their clan members, allowing the clan to level up faster. Additionally, players earn a 30% BP boost for playing with members of their clan.

Taeseok Jang, Executive Producer of PUBG: BATTLEGROUNDS said, "We have introduced the clan system starting with the 23.2 test server update to foster a sense of belonging and ultimately heightening player satisfaction. Through the new system, we hope players can enjoy a more fulfilling gameplay experience with their friends and clan members."

More details on PUBG: BATTLEGROUNDS, are available at www.pubg.com and on official social media channels: YouTube, Twitter, Instagram, Facebook, Twitch, TikTok.
About KRAFTON, Inc.

Based out of South Korea, KRAFTON, Inc. is a collective of independent game development studios bound by a passion for creating innovative and engaging entertainment experiences for gamers worldwide. Founded in 2007, KRAFTON consists of PUBG STUDIOS, Bluehole Studio, RisingWings, Striking Distance Studios, Dreamotion, Unknown Worlds, 5minlab, Neon Giant and KRAFTON Montréal Studio, each with its own unique expertise.

KRAFTON is responsible for premier entertainment properties, including PUBG: BATTLEGROUNDS, The Callisto Protocol, NEW STATE MOBILE, Moonbreaker, TERA and ELYON. With a team of 3,000 members across nine countries, KRAFTON is a technology-driven company that boasts world-class capabilities as it seeks to expand its areas of business beyond games to multimedia entertainment and deep learning. For more information, visit www.krafton.com