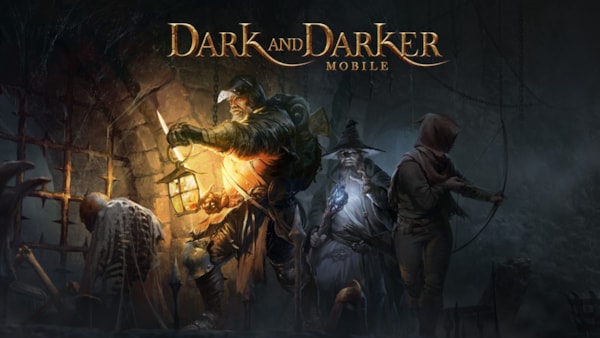 AMSTERDAM, NETHERLANDS - 16 November, 2023 – KRAFTON, Inc., the creators of PUBG: BATTLEGROUNDS and PUBG MOBILE, officially unveiled Dark and Darker Mobile at G-STAR 2023, an international gaming event in Busan, South Korea. This announcement marks the first time the game is being shown since KRAFTON inked an exclusive global licensing deal with IRONMACE to adapt their explosive gaming hit for mobile platforms.
Developed by KRAFTON's Bluehole Studio, Dark and Darker Mobile blends the intrigue of dungeon crawlers, the depth of RPGs, and the tension of battle royale survival to recreate the unique blend of extraction-based gameplay that made the original game such an exhilarating experience. By drawing on KRAFTON's vast mobile gaming experience, the game will be tailored and optimized for mobile users, ensuring it runs and plays well for a mobile platform.
"KRAFTON is thrilled to be able to debut Dark and Darker Mobile for the first-time at G-STAR 2023," said Rafael Lim, Senior Head of Publishing Business Division at KRAFTON. "We believe that Dark and Darker Mobile will resonate with mobile players by capturing the spirit of the PC version with engaging survival mechanics, immersive exploration, and intense extraction gameplay. Our goal is to surpass fan expectations with a truly unique mobile gaming experience."
In Dark and Darker Mobile, adventurers will choose from five different classes (Fighter, Barbarian, Ranger, Rogue, and Cleric) before embarking on a daring journey filled with hidden treasures, unique environments, and emergent gameplay opportunities. As adventurers seek untold riches from dark dungeons, a mysterious magnetic field called the Darkswarm slowly forces opposing players and other dangers closer together. In order to escape with their loot and their lives, adventurers must find an escape portal or lose everything. Each adventure promises a new story to tell with an opportunity for limitless treasures or absolute doom.
For those interested in learning more about Dark and Darker Mobile before its 2024 release, you can watch its walkthrough trailer here. For more information, please visit www.krafton.com/en/.
About KRAFTON, Inc.
Headquartered in South Korea, KRAFTON, Inc. is dedicated to discovering and publishing captivating games that offer fun and unique experiences. Established in 2007, KRAFTON is home to globally renowned developers that include PUBG STUDIOS, Striking Distance Studios, Unknown Worlds, VECTOR NORTH, Neon Giant, KRAFTON Montréal Studio, Bluehole Studio, RisingWings, 5minlab, Dreamotion, ReLU Games and Flyway Games. Each studio strives to continuously take on new challenges and leverage innovative technologies. Their goal is to win over more fans by broadening KRAFTON's platforms and services.

KRAFTON is responsible for premier entertainment properties, including PUBG: BATTLEGROUNDS, PUBG MOBILE, The Callisto Protocol, NEW STATE MOBILE, Moonbreaker, Defense Derby and TERA. With a passionate and driven team across the globe, KRAFTON is a tech-forward company that possesses world-class capabilities and is set on expanding its business horizons to encompass multimedia entertainment and deep learning. For more information, visit www.krafton.com.