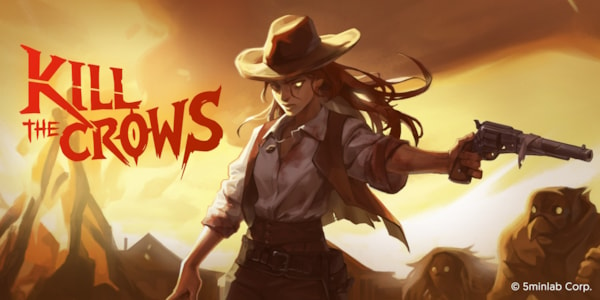 21 August 2023 - 5minlab, an independent studio under KRAFTON (CEO CH Kim), launches its latest game, Kill The Crows today on Steam. This top-down arena shooter is set in a twisted western world where players take on the role of Isabella, a vengeful gunslinger focused on eliminating a group of fanatical cultists who worship crows.
Since Isabella and all enemies, including bosses, can be taken out with a single stray bullet, players must avoid enemy gunfire and melee attacks, while taking cover and utilising the given weapons and environment to defeat as many enemies as possible.
Kill The Crows features a special skill called 'Showdown', which must be mastered by players to progress in the game. 'Showdown' is a technique that allows players to aim and shoot at multiple enemies simultaneously and reload all bullets at once to escape danger.
Although players will mainly engage enemies with a revolver, they'll be able to unlock better weapons, magazines, and passive skills by meeting various conditions while playing the game. As fights become more challenging, players will need to diversify their weaponry and master new skills to overcome greater and more powerful bosses.
Kill The Crows is available on Steam for £4.29/€4.99 in both Korean and English. To celebrate the release, Kill The Crows will have a 10% discount for its first week. For more details can be found on Steam and the official Twitter account.
'Kill The Crows' on Steam: https://store.steampowered.com/app/2441270
'Kill The Crows' official Twitter: https://twitter.com/proj_KillCrows
5minlab official Twitter: https://twitter.com/5minlabOfficial
About KRAFTON, Inc.

Based out of South Korea, KRAFTON, Inc. is a collective of independent game development studios bound by a passion for creating innovative and engaging entertainment experiences for gamers worldwide. Founded in 2007, KRAFTON consists of PUBG STUDIOS, Bluehole Studio, RisingWings, Striking Distance Studios, Dreamotion, Unknown Worlds, 5minlab, Neon Giant and KRAFTON Montréal Studio, each with its own unique expertise.

KRAFTON is responsible for premier entertainment properties, including PUBG: BATTLEGROUNDS, The Callisto Protocol, NEW STATE MOBILE, Moonbreaker, TERA and ELYON. With a team of 3,000 members across nine countries, KRAFTON is a technology-driven company that boasts world-class capabilities as it seeks to expand its areas of business beyond games to multimedia entertainment and deep learning. For more information, visit www.krafton.com