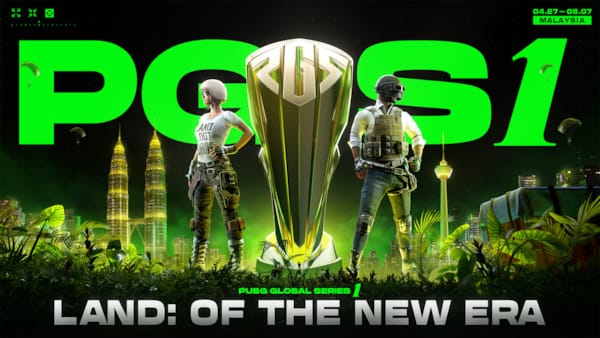 AMSTERDAM, NETHERLANDS - APRIL 24, 2023 - KRAFTON, Inc. is set to host PUBG Global Series 1 (PGS 1) - a global PUBG Esports tournament in Kuala Lumpur, Malaysia. PGS 1, taking place from 27 April to 7 May, will feature 24 top teams from around the world – eight Global Partner Teams and 16 teams that have qualified through regional tournaments - competing for the share of the $500,000 prize pool and PGS Points needed to secure a place at PUBG Global Championship 2023. Unlike the PUBG Continental Series held online in four different regions worldwide last year, PGS 1 will be held offline at the Battle Arena Malaysia.

PGS 1 Tournament Structure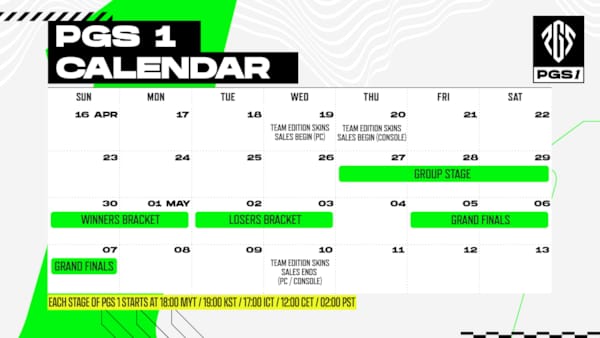 PGS 1 will kick off with the Group Stage on 27 April, which serves as a stepping stone to the Grand Finals. The 24 teams will be divided into three groups of eight teams each, and the stage will last for three days. The matches will be conducted in the format of six matches per day, with Group A and B on the first day, Group B and C on the second day, and Group C and A on the third day.

After the Group Stage, the top 16 teams will advance to the Winners Bracket, while the bottom eight teams will move to the Losers Bracket. The Winners Bracket will be held over two days, from 30 April to 1 May, with six matches per day. The top eight teams will advance directly to the Grand Finals. The bottom eight teams in the Winners Bracket will compete in the Losers Bracket along with the bottom eight teams from the Group Stage, battling it out in six matches per day on 2-3 May. Only the top eight teams from the Losers Bracket will advance to the Grand Finals, while the remaining eight teams will be eliminated.

The Grand Finals will be held over three days, 5-7 May, with a total of 18 matches. The team with the highest overall ranking will be crowned the champion of PGS 1. The winning team will receive $80,000, and the remaining prize money will be distributed according to the final rankings.

Starting with this tournament, a new PGS Points system is being introduced. PGS 1 and the upcoming PGS 2 in the second half of the year will award PGS Points to the top 16 teams based on their final rankings. The top four teams with the most PGS Points will secure a spot in the year-end PUBG Global Championship 2023, the premier global PUBG Esports tournament. PGS Points are separate from the PGC Points granted in regional competitions and will not be combined.

In addition to the three legendary Global Partner Teams – FaZe Clan, Natus Vincere and Twisted Minds – EMEA is represented at PGS 1 by two more teams that have qualified through PUBG EMEA Championship: Spring (PEC). HOWL was crowned PEC: Spring champions, while Acend Club took a very close second place, both securing a spot at the first offline PUBG Esports tournament of 2023.

Team Edition Skins for Global Partner Teams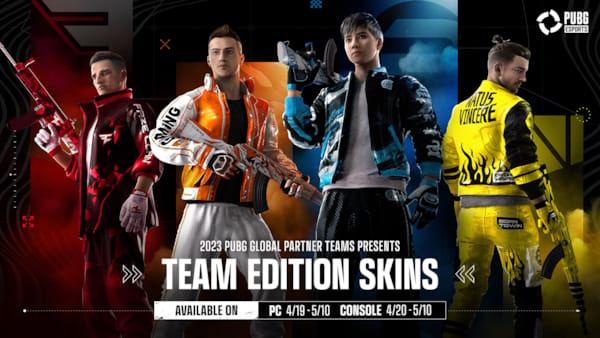 In celebration of the PGS 1 event, four out of the eight Global Partner Teams - FaZe Clan, 17Gaming, Natus Vincere, and Petrichor Road - will showcase their Team Edition items. The orgs have designed their own unique skins, which are available for purchase in-game until 6 AM CEST on 10 May. The skins for the remaining teams will be released ahead of PGS 2. 25% of the revenue generated from the sale of the Team Edition skins will be distributed among the global partner teams.

PGS 1 Broadcasting details

All matches of PGS 1 will begin at 12:00 CEST and can be followed live on the official PUBG: BATTLEGROUNDS Twitch and PUBG: Esports YouTube channels. Describing the action every step of the way will be PUBG: BATTLEGROUNDS Talents: James "Kaelaris" Carrol, Steven "Toffees" Pierce, Martin "Avnqr" Gøth, Clinton "Paperthin" Bader, Cameron Davis, Tobias "TheNameIsToby" Wiinblad, SooHang "Bella" Dong.

More details about PGS 1 event, team-branded items, and other PUBG Esports updates, please visit the official website at www.pubgesports.com or follow us on social media: YouTube, Twitter, Instagram, Twitch and TikTok.

More details on PUBG: BATTLEGROUNDS, are available at www.pubg.com and on official social media channels: YouTube, Twitter, Instagram, Facebook, Twitch, TikTok.
About KRAFTON, Inc.

Based out of South Korea, KRAFTON, Inc. is a collective of independent game development studios bound by a passion for creating innovative and engaging entertainment experiences for gamers worldwide. Founded in 2007, KRAFTON consists of PUBG STUDIOS, Bluehole Studio, RisingWings, Striking Distance Studios, Dreamotion, Unknown Worlds, 5minlab, Neon Giant and KRAFTON Montréal Studio, each with its own unique expertise.

KRAFTON is responsible for premier entertainment properties, including PUBG: BATTLEGROUNDS, The Callisto Protocol, NEW STATE MOBILE, Moonbreaker, TERA and ELYON. With a team of 3,000 members across nine countries, KRAFTON is a technology-driven company that boasts world-class capabilities as it seeks to expand its areas of business beyond games to multimedia entertainment and deep learning. For more information, visit www.krafton.com