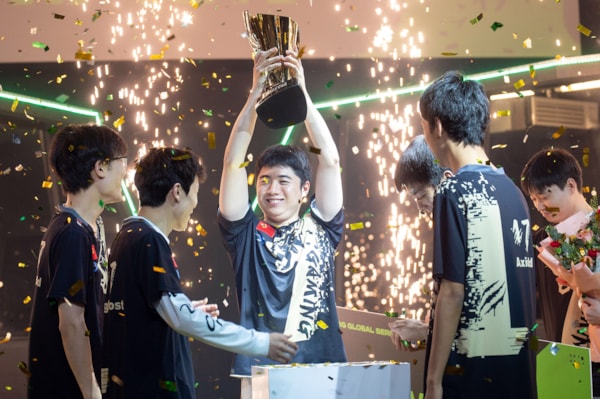 AMSTERDAM, NETHERLANDS - MAY 08, 2023 - KRAFTON, Inc. has announced 17Gaming as the champions of the PUBG Global Series 1 (PGS 1). The Grand Finals took place from 5 - 7 May as an offline event at the Battle Arena located in Kuala Lumpur, Malaysia. After three days of intense competition across a total of 18 matches, Global Partner Team 17Gaming of China, comprised of Shengjun "Lilghost" Luo, Zhanya "Xbei" Tu, Bo "xwudd" Wu, and Lin "SuJiu" Yu, claimed the glory of becoming the first PGS champion and taking home $80,000 in prize money.

The 2nd place was taken by EMEA's Acend, while the 3rd place went to China's Tianba Esports. Other EMEA teams, Twisted Minds, Natus Vincere and HOWL, took 5th, 10th, and 11th places respectively.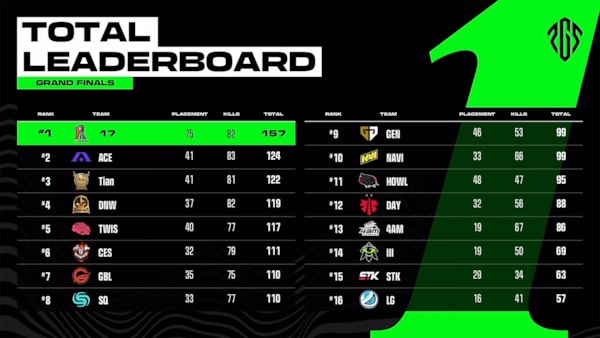 17Gaming had a slow start to PGS 1, surprising fans by finishing 19th in the Group Stage and falling to the Losers Bracket. Despite a relatively quiet comeback in the Losers Bracket, they showcased an overwhelming performance and balanced tactical decisions from the first match on the Day 2 of the Grand Finals, climbing to the top spot, and maintaining that position right until the last minutes of the tournament.

Acend, who also dropped into the losers bracket and squeezed into the Grand Finals by taking the last qualification spot available, finally found their game in the Grand Finals. While they didn't get a single Chicken Dinner in the final three day stage of the tournament, five podium finishes and the highest amount of total kills got the roster to a very well deserved second place - their best performance on the global PUBG Esports scene so far.

Earning almost two kills per match and dealing significant damage to his opponents, Danawa e-sports' team leader, "seoul" was named the PGS 1 MVP while also helping his squad to a fourth-place finish.

On the last day of PGS 1, KRAFTON revealed details of the upcoming PUBG Global Series 2 (PGS 2), which will take place in the second half of the year. Powered by the world's leading esports festival Gamers8, PGS 2 is scheduled to be held in Riyadh, Saudi Arabia, from 10 - 20 August. Similar to PGS 1, 24 top teams from around the world will participate in this event, competing for a total prize pool of $2,000,000. PGS 2 will also be the first global PUBG Esports event to introduce the updated ruleset, with Taego being added into the map pool, among other changes.

For more details about PUBG Esports, please visit the official website at www.pubgesports.com or follow us on social media: YouTube, Twitter, Instagram, Twitch and TikTok

More details on PUBG: BATTLEGROUNDS, are available at www.pubg.com and on official social media channels: YouTube, Twitter, Instagram, Facebook, Twitch, TikTok.
About KRAFTON, Inc.

Based out of South Korea, KRAFTON, Inc. is a collective of independent game development studios bound by a passion for creating innovative and engaging entertainment experiences for gamers worldwide. Founded in 2007, KRAFTON consists of PUBG STUDIOS, Bluehole Studio, RisingWings, Striking Distance Studios, Dreamotion, Unknown Worlds, 5minlab, Neon Giant and KRAFTON Montréal Studio, each with its own unique expertise.

KRAFTON is responsible for premier entertainment properties, including PUBG: BATTLEGROUNDS, The Callisto Protocol, NEW STATE MOBILE, Moonbreaker, TERA and ELYON. With a team of 3,000 members across nine countries, KRAFTON is a technology-driven company that boasts world-class capabilities as it seeks to expand its areas of business beyond games to multimedia entertainment and deep learning. For more information, visit www.krafton.com