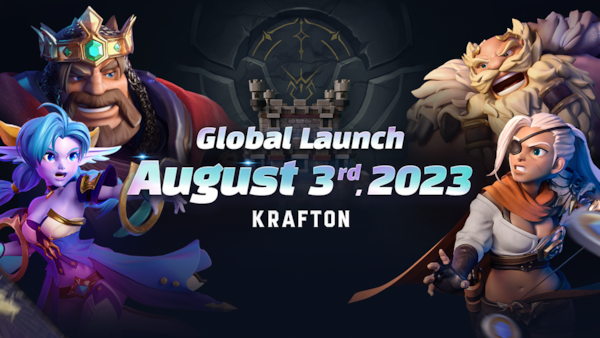 SANTA MONICA, CALIF. – July 18, 2023 – RisingWings, an independent studio of KRAFTON, Inc., has announced the global launch of its real-time strategy defense mobile game, Defense Derby, on August 3. The game will be available on Google Play, Apple's App Store, and Samsung's Galaxy Store.
Breathing fresh energy into the tower defense genre, Defense Derby thrusts players into 4-player PvP battles where they face intense strategy, mind games, and powerful synergy effects. Each round commences with a "scouting stage," where players bid against each other to recruit units and assemble their squads. Players must then strategically deploy their units within their castles to harness their unique capabilities and repel a sequence of monster attacks. The last player standing, with their castle intact, is declared the winner.
Defense Derby introduces a novel genre known as "Betting Royale." This unique gameplay element sees players scouting for units and launching battles through bidding. The game had a successful soft launch in six countries, including Singapore, Malaysia, Indonesia, Australia, Canada, and Hong Kong, and has garnered positive feedback from players.
Set for release in over 190 countries worldwide, Defense Derby will support nine languages, including Korean, English, Japanese, Thai, Indonesian, Malay, Portuguese, and Chinese (Simplified/Traditional). To celebrate the official release, the game will roll out a new 'Quest Mode' and enhanced Friendly Derby and spectator features.
Pre-registration for Defense Derby is currently open and will remain so until its official launch. Pre-registered users will receive a 'Welcome Package' filled with in-game bonuses at launch, including 20,000 Gold, a Rare Hero card, a Rare Unit card, and a Special Castle Skin.
"KRAFTON and RisingWings are dedicated to improving the quality of Defense Derby based on feedback from our global player base," said Rafael Lim, Sr. Head of Publishing Business Div. at KRAFTON. "We are eager for players to engage with the innovative 'Betting Royale' genre this August."
For the latest Defense Derby updates, please visit https://defensederby.krafton.com and follow along on social media (Facebook | YouTube | Discord).
# # #
About KRAFTON, Inc.

Based out of South Korea, KRAFTON, Inc. is a collective of independent game development studios bound by a passion for creating innovative and engaging entertainment experiences for gamers worldwide. Founded in 2007, KRAFTON consists of PUBG STUDIOS, Bluehole Studio, RisingWings, Striking Distance Studios, Dreamotion, Unknown Worlds, 5minlab, Neon Giant and KRAFTON Montréal Studio, each with its own unique expertise.

KRAFTON is responsible for premier entertainment properties, including PUBG: BATTLEGROUNDS, The Callisto Protocol, NEW STATE MOBILE, Moonbreaker, TERA and ELYON. With a team of 3,000 members across nine countries, KRAFTON is a technology-driven company that boasts world-class capabilities as it seeks to expand its areas of business beyond games to multimedia entertainment and deep learning. For more information, visit www.krafton.com