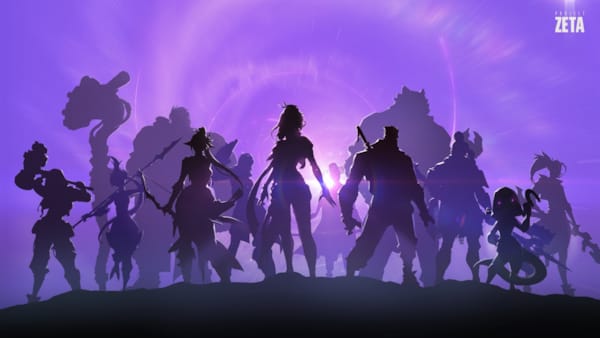 AMSTERDAM, NETHERLANDS - March 7, 2023 - KRAFTON Inc. today announced that it has signed a global publishing partnership with game developer Nirvanana for its upcoming game. Codenamed ZETA, the character-based strategic PvP game is currently slated for release in 2025. Grounded in controller-friendly third-person action games, ZETA aims to capture the exciting depth and tension of real-time strategic gameplay, infusing it with a character-centric focus.

"KRAFTON is consistently searching for opportunities to collaborate with development studios such as Nirvanana. Their team's limitless potential is already driving work on a game that will strengthen our portfolio and its publishing capabilities," said CH Kim, KRAFTON CEO. "KRAFTON plans on sharing its global experience with Nirvanana so that the team can fully focus on developing ZETA."

The partnership with Nirvanana is the first step in KRAFTON's plan to expand second-party publishing opportunities through equity investments in external developers, which was announced in January during KRAFTON LIVE TALK(KLT), an internal communications program.

KRAFTON will help launch and operate the game when it releases on console, PC, and cloud-based global distribution platforms. In addition to publishing, KRAFTON and Nirvanana will plan to seek cooperation in other areas such as esports competitions and secondary work-related business.

"Nirvanana and KRAFTON have something in common in that they both focus on developing games that bring fun to players around the world," said Kim Nam-seok, CEO of Nirvanana. "We will do our best to develop the next-generation character skill fighting game ZETA as a new IP that will continue the success."

Founded in 2022, Nirvanana was created by game developers with proven expertise and experience in creating globally successful games. The company is currently hiring for various roles, including development, design, and art. For more information around the game or career opportunities at Nirvanana, please visit http://nirvanana.gg/en and https://nirvanana.career.greetinghr.com.
###
About Nirvanana
Nirvanana is a game developer established in 2022 with the goal of 'developing a AAA-class IP that can be loved by global gamers for a long time'. Nirvanana defines an AAA IP that delivers long-term and regular expectations to gamers, builds trust through repeated cycles in which expectations are steadily realized, and ultimately, gamers themselves have the power to become voluntary and enthusiastic fans. Nirvanana's first project is a character-based strategic PvP genre that brings together more than 50 PvP game enthusiasts to create a game that delivers excitement to the global gamer community.
About KRAFTON, Inc.

Based out of South Korea, KRAFTON, Inc. is a collective of independent game development studios bound by a passion for creating innovative and engaging entertainment experiences for gamers worldwide. Founded in 2007, KRAFTON consists of PUBG STUDIOS, Bluehole Studio, RisingWings, Striking Distance Studios, Dreamotion, Unknown Worlds, 5minlab, Neon Giant and KRAFTON Montréal Studio, each with its own unique expertise.

KRAFTON is responsible for premier entertainment properties, including PUBG: BATTLEGROUNDS, The Callisto Protocol, NEW STATE MOBILE, Moonbreaker, TERA and ELYON. With a team of 3,000 members across nine countries, KRAFTON is a technology-driven company that boasts world-class capabilities as it seeks to expand its areas of business beyond games to multimedia entertainment and deep learning. For more information, visit www.krafton.com