We're excited to dive into the October reveal for NEW STATE MOBILE, KRAFTON Inc.'s renowned mobile battle royale. The battlefield gets more intense with strategic depth skyrocketing, thanks to the all-new "Blue Zone Grenade," a game-changer in player tactics, among other thrilling enhancements!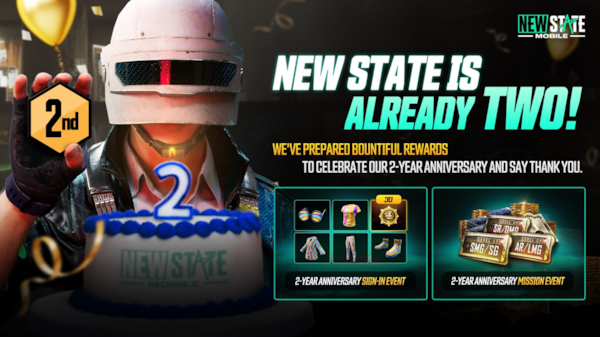 Strategic Chaos with the Blue Zone Grenade
Originally making waves in "PUBG: BATTLEGROUNDS," the Blue Zone Grenade debuts in NEW STATE MOBILE, unleashing a temporary Blue Zone that demands quick wits and quicker reflexes. Be warned: overlapping Blue Zones up the damage - and the stakes!
Parachute Precision and Rapid Descent
Rule the skies with revamped parachute controls and the brand-new rapid descent feature. Whether you're gliding far or dropping fast, the battlefield's yours to command - just not when reviving via Green Flare Gun.
AK Alfa's "Dedicated Laser Grip" Customization
The AK Alfa's new attachment isn't just for show. Expect improved recoil control and enhanced accuracy, whether you're aiming down sights or firing from the hip - a small trade-off for a bit slower aiming and no handle slot.
Ace League's Explosive Schedule
The heat's on in the Ace League! Daily prelims from November 11th-17th lead to the ultimate showdown on the 18th and 19th. Remember, the Weekly League takes a break until the 25th. Are you ready to climb the ranks?
Survivor Pass Vol.24 Unleashes "Chris"
Meet Chris, the fearless leader of the Hunters faction and the face of Survivor Pass Vol.24. Scale the pass levels for a free skin and indulge in the 'Crazy Baron' costume set with the Premium Pass - it's our most rewarding yet!
2nd Anniversary Festivities
Anniversary celebrations kick off on November 11th! Log in by December 19th for exclusive skins and Chicken Medals. Don't miss out on special missions, anniversary coins, and more - your ticket to coveted rewards and weapon upgrade tokens.
For a deeper dive into the electrifying world of NEW STATE MOBILE and all it has in store, visit the official website at http://newstate.pubg.com.
About KRAFTON, Inc.

Based out of South Korea, KRAFTON, Inc. is a collective of independent game development studios bound by a passion for creating innovative and engaging entertainment experiences for gamers worldwide. Founded in 2007, KRAFTON consists of PUBG STUDIOS, Bluehole Studio, RisingWings, Striking Distance Studios, Dreamotion, Unknown Worlds, 5minlab, Neon Giant and KRAFTON Montréal Studio, each with its own unique expertise.

KRAFTON is responsible for premier entertainment properties, including PUBG: BATTLEGROUNDS, The Callisto Protocol, NEW STATE MOBILE, Moonbreaker, TERA and ELYON. With a team of 3,000 members across nine countries, KRAFTON is a technology-driven company that boasts world-class capabilities as it seeks to expand its areas of business beyond games to multimedia entertainment and deep learning. For more information, visit www.krafton.com