If you've missed the news, we recently introduced a thrilling July update to New State Mobile, the popular mobile battle royale game from KRAFTON Inc. This update unveiled several new features, such as the "Weekly League", the UMP45 submachine gun's innovative "Laser Grip" customization, and the Summer Festival event.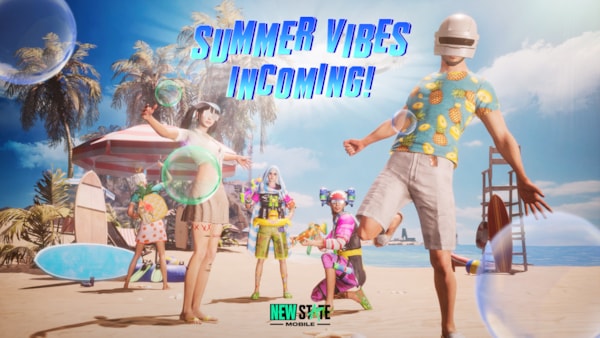 Weekly League Now Live
With the Weekly League now live through Sept. 3, players with a tier score of 2,000 points (Gold V) or above can compete each weekend. Battle royale maps for the Weekly League rotate daily, featuring "Akinta" and "Lagna" on Saturdays, and "Troi" and "Erangel" on Sundays. The Weekly League, exclusively in third-person squad mode, presents a dedicated Blue Zone balance, offers double the tier score, and depending on your ranking, you could receive honor coins, chicken medals, BP, and more.
New UMP45 Customization
Our UMP45 submachine gun now includes the new "Laser Grip" customization. When equipped, this non-replaceable grip enhances visual laser sight effects, vertical recoil control, and shooting and aiming accuracy. Please note, with this customization, aiming speed slightly decreases, and the grip slot becomes unusable.
Summer Festival
The New State Mobile Summer Festival event, now in full swing through August 23, provides opportunities to earn bingo tokens by completing daily and cumulative missions. Complete a bingo and earn exciting rewards such as costumes, gun skins, and BP.
Enhanced Play Experiences
Our updates across various modes are now improving gameplay. For instance, the second season of Bounty Royale now features a potent "Grenade Launcher" and a "Golden Flare Gun" that calls special care packages. In "KA-BOOM" Mode, we reduced the "Red Zone Launcher" damage and added invincible and destructible terrains.
Season 10 Live
The kick-off of Battle Royale Season 10 has happened. Rewards now await you in the lobby along with a summary of the last season. We've reset the tiers based on the final tier of the last season, including the Bounty Royale tier, with rewards distributed through in-game mail.
New Survivor Pass
Last but not least, meet "Wild Skinner", the protagonist of the newly released Survivor Pass Vol.21 and member of the Mayhem faction. Players can now unlock Wild Skinner's character skin for free after achieving all pass levels.
For more details on these updates and more, please visit our official website at http://newstate.pubg.com. We're grateful for your support and hope you enjoy the new features and improvements.
About KRAFTON, Inc.

Based out of South Korea, KRAFTON, Inc. is a collective of independent game development studios bound by a passion for creating innovative and engaging entertainment experiences for gamers worldwide. Founded in 2007, KRAFTON consists of PUBG STUDIOS, Bluehole Studio, RisingWings, Striking Distance Studios, Dreamotion, Unknown Worlds, 5minlab, Neon Giant and KRAFTON Montréal Studio, each with its own unique expertise.

KRAFTON is responsible for premier entertainment properties, including PUBG: BATTLEGROUNDS, The Callisto Protocol, NEW STATE MOBILE, Moonbreaker, TERA and ELYON. With a team of 3,000 members across nine countries, KRAFTON is a technology-driven company that boasts world-class capabilities as it seeks to expand its areas of business beyond games to multimedia entertainment and deep learning. For more information, visit www.krafton.com