SEOUL, South Korea - May 10, 2023 — Today we revealed the details of Update 23.2 for PUBG: BATTLGROUNDS, which includes the arrival of two new features that enhance the gameplay experience: Introducing the new Recall and Clan systems!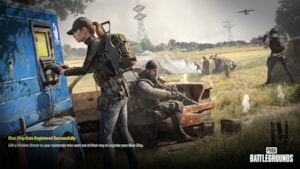 Update is available on the PC Test Server today, and it will go fully live on PC on May 17 and on consoles on May 25. Check out the key highlights below or check out the full Patch Report video and patch notes for a deeper look at how everything works.
Here's what you need to know about the new Recall system:
The new Recall system has been designed to alleviate the sense of frustration felt upon death during team play. By acquiring the Blue Chip from a defeated ally's deathbox, you can help your teammate rejoin the match! With Blue Chip Towers scattered throughout the map and a new Blue Chip Transmitter, recalling teammates has never been easier.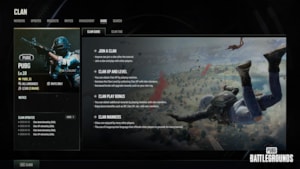 The Blue Chip is a special chip containing a player's biometric signature.

Blue Chips can be obtained from any player's deathbox, including those who aren't on your team, and added to your inventory.

The Blue Chip Tower and Transmitter are used to recall teammates and can be found throughout the map in random locations that change with each new match.

Successfully registered Blue Chips will recall the appropriate teammates in the next phase.

Recall is impossible if the entire team is eliminated.

Acquire an enemy's Blue Chip to prevent them from rejoining a match.
The Clan integration is also packed with exciting features:
The Clan integration adds a fresh and engaging layer to the PUBG: BATTLEGROUNDS gameplay experience with a new progression system: Clan levels. Collaborating with your Clan members offers a range of benefits and rewards, as well as the ability to access your own or other players' Clan Tags, and more!
The Lobby now features a Clan button for creating or joining a Clan.

Clans can level up to level 20.

Clans have unique names and tags and can have up to 100 members.

Players earn a 30% BP boost and a double XP bonus for playing with their Clan members.

A new Clan channel has been added to the chat feature, allowing Clan members to communicate with each other.
For the latest information on PUBG: BATTLEGROUNDS, please visit https://na.battlegrounds.pubg.com/ or follow us on social media (Twitter/ Instagram / Facebook / TikTok). For assets, please visit the KRAFTON Press Site.
About KRAFTON, Inc.

Based out of South Korea, KRAFTON, Inc. is a collective of independent game development studios bound by a passion for creating innovative and engaging entertainment experiences for gamers worldwide. Founded in 2007, KRAFTON consists of PUBG STUDIOS, Bluehole Studio, RisingWings, Striking Distance Studios, Dreamotion, Unknown Worlds, 5minlab, Neon Giant and KRAFTON Montréal Studio, each with its own unique expertise.

KRAFTON is responsible for premier entertainment properties, including PUBG: BATTLEGROUNDS, The Callisto Protocol, NEW STATE MOBILE, Moonbreaker, TERA and ELYON. With a team of 3,000 members across nine countries, KRAFTON is a technology-driven company that boasts world-class capabilities as it seeks to expand its areas of business beyond games to multimedia entertainment and deep learning. For more information, visit www.krafton.com