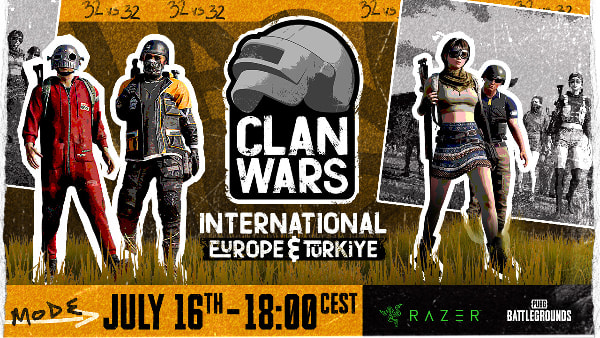 PUBG: BATTLEGROUNDS presents the Clan Wars International: Europe & Türkiye event that is set to take place on July 16 at 18:00 CEST, pitting the four strongest clans from Europe against the top four clans from Türkiye. The tournament celebrates the recent introduction of the Clan System that is designed to foster a sense of belonging and heighten player satisfaction.
The tournament consists of five matches played in War Mode: Platoon on three classic PUBG: BATTLEGROUNDS maps (Erangel, Miramar and Sanhok) and features a total prize pool of €10,000. The participating clans have all qualified through the local Clan War tournaments to represent their region. The team that scores three wins will be declared the Clan War Champion.
The tournament will be streamed live on the official PUBG: BATTLEGROUNDS Twitch channel. PUBG veterans JoRoSaR and Kowo will be casting and analyzing the action every step of the way. Fans are invited to take part in Razer giveaways throughout the event on our official EU Twitter and during the livestream on Twitch.
More details on PUBG: BATTLEGROUNDS, are available at www.pubg.com and on official social media channels: YouTube, Twitter, Instagram, Facebook, Twitch, TikTok.
About KRAFTON, Inc.
Based out of South Korea, KRAFTON, Inc. is a collective of independent game development studios bound by a passion for creating innovative and engaging entertainment experiences for gamers worldwide. Founded in 2007, KRAFTON consists of PUBG STUDIOS, Bluehole Studio, RisingWings, Striking Distance Studios, Dreamotion, Unknown Worlds, 5minlab, Neon Giant and KRAFTON Montréal Studio, each with its own unique expertise.
KRAFTON is responsible for premier entertainment properties, including PUBG: BATTLEGROUNDS, The Callisto Protocol, NEW STATE MOBILE, Moonbreaker, TERA and ELYON. With a team of 3,000 members across nine countries, KRAFTON is a technology-driven company that boasts world-class capabilities as it seeks to expand its areas of business beyond games to multimedia entertainment and deep learning. For more information, visit www.krafton.com